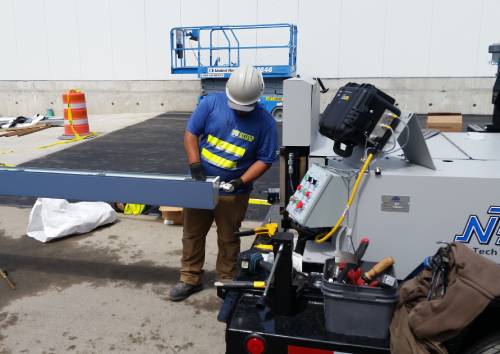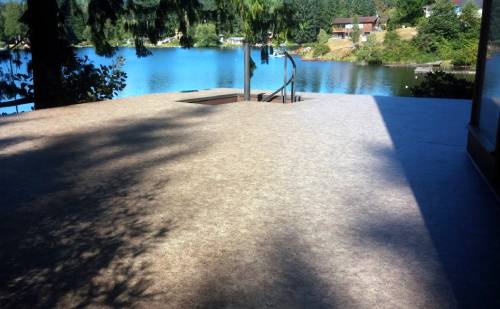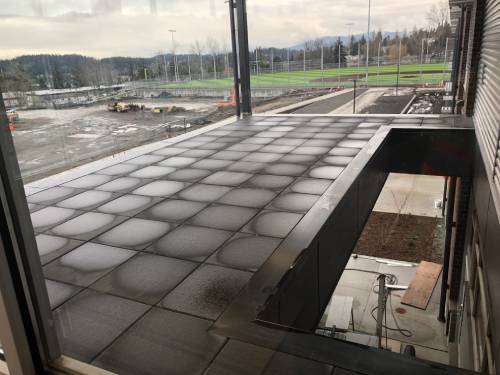 At Hytech we understand you have a variety of roofing needs so we provide many specialty services in order to help you accomplish your goals.
Roof Moisture Scanning
Attention Architects, Consultants, and Building owners:
Hytech has a trained staff of technicians ready to inspect the health of your roof, test it for defects, and locate underlying damages that are not visible to the naked eye. Hytech utilizes non-destructive scanning methods that are compatible with most roof assembly types. Hytech can scan prospective re-roof projects and provide detailed reports showing where wet insulation was detected. This service allows specifiers to quantify wet insulation replacement before bid award and subsequent roofing work occurs. It is always in a building owner's best interest to replace wet insulation. Moisture laden materials can cause issues with the performance of your new installations as well as dramatically decrease the thermal performance of the building.
Roof Alterations
At first glance, interior tenant improvement projects don't seem like they would affect the roof system above. However, most often there is new equipment being installed on or through the roof structure, or old equipment that becomes abandoned. Did you know that unauthorized repairs and alterations to your roofing system can void the manufacturer's warranty? If you know an alteration is going to occur to your building, we encourage you to get us involved. Hytech will ensure that the installation of these components meets or exceeds the roofing manufacturers' recommended details and does not void the warranty. You can also utilize us, as many property owners already do, to perform a close-out inspection on your roof prior to completion of the TI work. This makes 100% sure that contractors working on the roof have not damaged the roof or performed unauthorized work.
Gutters and Downspouts
Hytech is excited to offer high-end continuous gutters. There is no shortage of light gauge, small capacity gutter contractors out there. Hytech has focused on modern, streamline, and high capacity gutter system installation. Through many years in the commercial construction industry, we discovered a real need in Whatcom, Skagit, Island, Snohomish, and King Counties for larger gutter options. There were times in our past where we were forced to make and install break-form gutters. These gutters look ok but they are only available in 10' lengths which means you have a lot of sealed joints that could eventually fail. We are proud to offer a true 4" x 6" smooth continuous gutter that is available in 24 g or 26 g. Steel, or 032 Aluminum. We find that the 4" x 6" gutters look great in commercial and residential scenarios. With the 6" wide bottom, cleaning gutters is a breeze! We also offer a continuous high capacity 7" gutter available in 22 g. and 24 g. steel or 040 and 032 Aluminum. We install a lot of 3 x 4 smooth rectangular downspouts in the matching gauge of the gutters. However, we can also provide PVC downspouts or heavy gauge schedule 40 steel downspouts, if the project requires it. Click here and here to see our available gutter profiles.
Walkable Decks & Green Roof
There's the occasional project that necessitates some specialty waterproofing. Our longtime experience in roofing and waterproofing has provided us with opportunities to help people construct outdoor entertainment spaces. For walkable decks (membrane waterproofing with a walkable surface built-in) we've worked with Duradek to create some nice outdoor space. Soprema's PMMA resin offerings have also provided some very high performing walkable waterproofing surfaces. Other options include a waterproofing system with a protection layer, followed by concrete pavers and adjustable pedestals, or wood decking by others. In addition to these deck options, there are times where a green roof over waterproofing is in order. We have experience in a wide range of green roof projects from pre-vegetated trays, to intensive and extensive conventional, to sedum mats and sedum clippings. We have even had a full outdoor area with flower beds, personal decks, and badminton court over our waterproofing!
Solar Panel Array Coordination
PV systems on roofs offer great opportunity to use space on a building that isn't being utilized. Hytech is very familiar at coordinating with PV contractors to ensure that the attachment points and installation occurs in a way that is not detrimental to the roofing system or that will void the roofing manufacturer's warranty. When looking at installing a PV system on a roof, please keep in mind that these systems are expected to stay in place for a 30 year lifespan. If you are not installing this PV system on a new roof that we recently completed, Hytech believes that it is imperative that a roof inspection occur to evaluate the lifespan of the roof in place, and identify any defects that should be addressed. Please contact us if you are considering this long-term investment.